Coryl Crane Shihan, Chief Instructor and Founder, North County Aikikai and Chiba Sensei Memorial Webinar Host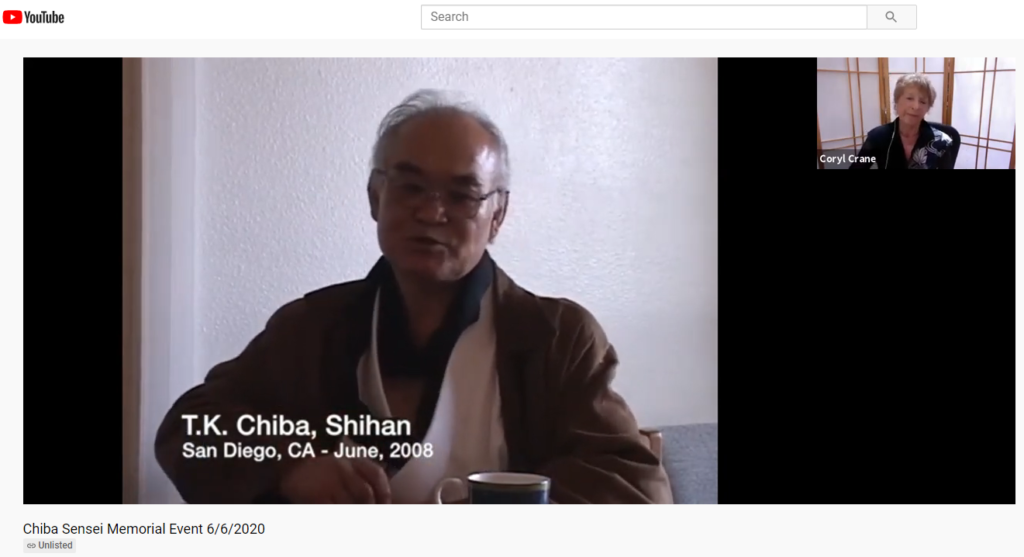 The June 6, 2020 commemoration of our inspirational and much loved teacher, Chiba Sensei, was a moving, visual, and experiential journey into his life. He came alive again for us all. The Zoom webinar connected over 100 people from 10 different countries around the world. Many had trained with Chiba Sensei and knew him personally, while many were second generation and knew him through their teachers and his reputation. Five years since he passed on June 5, 2015, and here we still think about Sensei and the effect he had on our lives.
The webinar started with a moment of silence during which time, and each in our own way, we could remember Chiba Sensei. We then saw his 2008 video interview with Lori Stewart, and it felt for me like I was sitting at that table with him while he talked about shoshin, beginner's mind, and his relationship with the metaphorical, unobtainable Princess, that was his Aikido – the treasure he lived his life to protect. Next, we were immersed yet again, watching Sensei in action on the mat, in a selection of video clips highlighting his always dynamic, powerful, and physical presence.
But what better way to know Chiba Sensei, the teacher, than through the personal memories and direct experiences of those students who spent many years in close and intense training with him. Webinar participants were invited to ask questions of four panelists: Archie Champion Shihan, George Lyons Shihan, Roo Heins Shidoin and Leslie Cohen Shidoin. The panel answered wide ranging questions from, "What was it like to take ukemi from Chiba Sensei?" to, "What was he like as a person?" The responses were unique in each case. What became apparent, however, was the panelists' shared common bond of love and respect grown from a life-changing relationship with their teacher.
From this first webinar, which had more questions than there was time to answer, ideas for a follow-up webinar soon grew. Held on July 18, Darrell Bluhm Shihan moderated our second webinar on Chiba Sensei's concept of connectedness, with panelists Didier Boyet Shihan, Diane Deskin Shidoin, Dave Alonzo Thierry Diagona Shidoin, and myself. There were 52 attendants from 6 different countries.
We very much hope to build on the interest generated by Chiba Sensei's memorial and open up discussion on subjects of interest to you all. Please let us know what and who you would like to hear more from.
Gassho, Coryl Crane, North County Aikikai, 8/14/20