After 20 years in the same location, Ventura Aikikai has moved to a new location.
In August, Ventura Aikikai's small but dedicated core of students began the hard work of disassembling one dojo and getting a new space ready.   Multiple trips to the dump, gallons of new paint and many shared lunches later, we were back to training as soon as the used tatami mats were down.  We still have odds and ends to complete, but thanks to dojo members, the hard work is done.
Many BNA aikidoka have fond memories of the spacious old dojo, hidden away in a quiet industrial section of Ventura. Nobuo Iseri sensei welcomed many a new student there and made sure no one left without puzzling out the dimensions of the figure eight.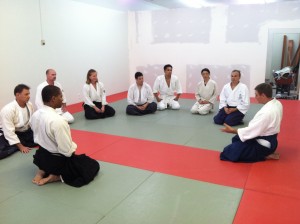 The new dojo is a narrow storefront on one of Ventura's busy commercial thoroughfares.  Higher visibility and less rent is the trade-off for considerably less space.  We are definitely developing heightened spatial awareness in our training.  We're also still getting used to the traffic noise, people walking by and the tempting smell of garlic bread from the Italian restaurant next door.
While the space is small, we're looking forward to growing.  Please come visit us at our new location:  2406 E. Main St, Ventura Calif.