By Grace Rollins, Bucks County Aikido
Paolo Propato and Grace Rollins, licensed acupuncturists at Bridge Acupuncture, discuss the energetics of acupuncture and what it's like to work and train in their field of Chinese medicine.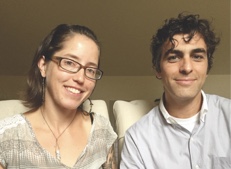 Paolo: What is qi?
Grace: Many people think of qi as "energy", but I think that's too materialistic of a translation. Qi is basically a very useful term that sums up complex processes that together create recognizable phenomena in the body. If you try to think of qi as some kind of literal substance or force you're just going to frustrate people interested in scientific backing; you won't find a measurable "energy" that corresponds to what people who practice Asian medicine are talking about.
"Qi" for acupuncturists is "weather" as it relates to the body. Weather is electromagnetic and gravitational relationships between elements and molecules; it's pressure dynamics,
thermodynamics, radiation; it's many processes, all overlapping and influencing each other. We can study it, characterize it and make predictions about it. The same way that we recognize many patterns in weather, we learn how to recognize patterns in qi, so we can influence bodily functions and promote health.
P: What do acupuncture methods actually do?
G: The traditional answer is that they stimulate special points that harmonize qi in the body, thereby promoting proper function and health. Scientifically, stimulating acupuncture points with needles and moxa has been shown to generate complex responses.
Needling causes distortions in chains of connective tissue throughout the body, which linkdifferent muscle groups, joints and organs. It also fires nerve endings that light up vastly
different areas of the brain and spinal cord. Acupuncture causes an electrical distortion in the body's electromagnetic field—you're putting a metal needle into an ionic solution (the body) which immediately creates an electrical polarity. The micro-injury caused by needling and moxa heat is also a very powerful method of stimulating the immune system and cytokines (chemical messengers). Plus, with acupuncture needles you can physically loosen tight muscle and connective tissue to release restrictions and improve blood flow.
I think one of the challenges in studying acupuncture scientifically is that its methods do so
much, all at once. One exact mechanism eludes us. That's why, even though I have a very
scientifically oriented mind, I still prefer the traditional Chinese and Japanese pre-scientific
theoretical concepts. We still haven't discovered a better way to describe the complex
processes happening here.
P: What makes acupuncture unique compared to other modalities that work with the subtle energy of the body?
G: Acupuncture is old, people! Over 2,500 years old! Moxibustion, the practice of heating
acupoints with the ember of dried mugwort, is even older. So even though acupuncture is
dealing with complexities that resist the scientific method, it has withstood a very important test with its continued use over such a long period of time.
A good scientist remains open-minded to the things that science doesn't yet have the tools to measure and explain. That applies to a lot of what happens in healing. But that doesn't mean you have to be open-minded to everything. Innovation is good. It helps our medicine get better and better, but with a methodology that is mainly observational, you have to be careful not to be led astray.
For this reason, I approach change cautiously, and I gravitate toward Japanese acupuncture, which monitors feedback during the session. We're always checking diagnostic qualities in the pulse, the abdomen or a symptomatic area for signs that our treatments are having the desired effect. Vetting my methods this way gives me confidence.
P: What are you feeling for before, during and after needling?
G: Patients like to ask me if I can "feel the energy," and if you think of it like qi, the summation of complex processes, then the answer is absolutely yes. We rely on touch, smell, sight and sound to collect information about the patient—especially touch in Japanese acupuncture. If I have to wear a Band-Aid on just one finger, I feel like I have a hand tied behind my back—it affects what I can feel.
Before needling, I'm feeling diagnostically for areas of restriction, imbalance and dysfunction in the patient. This might be structural, as in certain muscle groups or vertebral bodies that are too tight, twisted or compressed. Often internal imbalances will also be represented by certain qualities in the pulse, on the tongue or in reflective zones of the abdomen and back. For example, cardiac problems often show up with specific tender points on the upper torso and back.
Next I'm feeling for an appropriate point location; there are traditional anatomical locations as well as certain qualities that identify a "live" point. Depending on the point, it might be a
recessed area, a tight spot, a tender spot, thicker skin or connective tissue—qualities that
indicate a more effective point. When I insert the needle, there is a feeling I seek that
acupuncturists call the "arrival of qi". To me it's like a density on the end of the needle, like it's connected well. Learning to recognize it is part of our craft.
After needling I will re-check the diagnostic signs to see if the acupuncture was successful at balancing the qi. If I did a good job there should be signs of improvement; if not, I might need another point, or a different one, or to add moxa, for example.
I'm also feeling the qi of the person as a whole. This is the intuitive part, synthesizing the input from all of my senses.
P: How do you cultivate the necessary skills?
G: I started studying acupuncture at the same time I started studying Aikido and Zen meditation.  Like acupuncture, Aikido trains the various senses of the body to harmonize with another person's qi. These practices help me to be more centered and attuned to my patients, and to myself.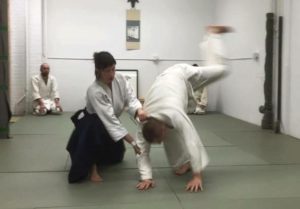 An invaluable part of my training is a regular apprenticeship with the acupuncture master Kiiko Matsumoto. I spend at least two or three weeks a year shadowing her here and in Japan, taking in practical knowledge as well as the qi of her practice—the complex combination of qualities that allow her to be a dynamic, effective practitioner.
Taking my own health seriously is also a critical way that I stay attuned to the balance of qi in others. I believe in it, I live it! I work on my posture throughout the day and study how to move in a way that's healthy and efficient. I try to eat in a way that's balanced ecologically, that doesn't do me harm and that fills me with vitality. I get outdoors and experience the natural world to help keep those areas of my consciousness and humanity alive. I meditate, do yoga and exercise a lot, and I try to play and have fun. Last but not least, I get regular acupuncture!
Bridge Acupuncture, located at 30 Garden Alley, in Doylestown, is a Legacy Advertising partner of Natural Awakenings of Bucks and Montgomery Counties.
To schedule an appointment with Paolo Propato or Grace Rollins, call 215-348-8058 or visit BridgeAcupuncture.com.