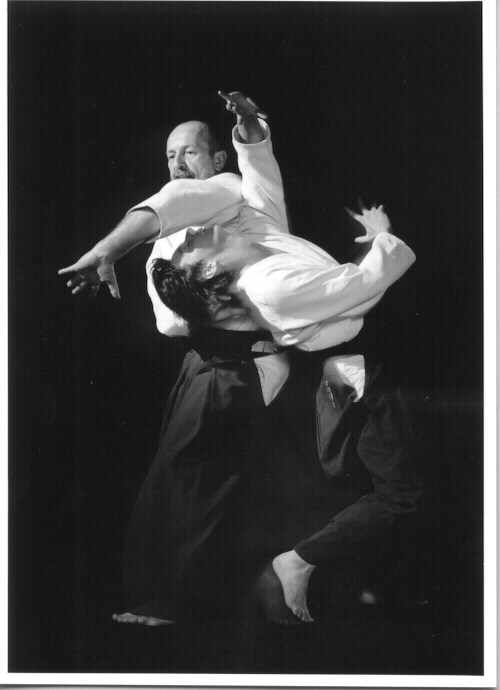 Didier Boyet Shihan started studying with Chiba Sensei in 1977, spending an extensive amount of time with him in Japan, Europe, England and San Diego. Boyet lived in Tokyo and trained at Hombu Dojo from 1977 to 2016 – he currently lives in Paris and travels the world teaching Aikido seminars. The following is an edited transcript of several conversations between Boyet Shihan and Liese Klein in Tokyo in March of 2016. Some of Boyet Sensei's experiences are also related in the upcoming biography The Life-Giving Sword: Kazuo Chiba's Life in Aikido. Boyet Sensei will be the featured guest instructor at 2018 Birankai Aikido Summer Camp, July 20-25 in Tacoma, Wash.
Tell me about your arrival in Tokyo in 1977.
I arrived on Oct. 4, a Tuesday, and on the 7th, I joined Chiba Sensei's class. I came a little bit early: He signed me up at the dojo then he took me to Kisshomaru Sensei's house. Then he took me to his class, I changed and sat down in the dojo. There were very few people, maybe 12. When everyone bowed in, the only one left to train with was this Japanese guy. We started training and I thought, 'This guy's trying to kill me!' I'm thinking that I can't take it, I'm going to die! That was Shibata Sensei. I had very long hair at that time – for iriminage he grabbed me by the hair. After class everyone was laughing. I was a very weak shodan. Then I started going to Shibata Sensei's class and he sort of liked me. We were eight people in this class at 3 pm. The class was very wonderful, it was very dynamic but basic, basic.
How did you first meet Chiba Sensei?
I first met Chiba Sensei during the Tamura Sensei Summer Camp of 1973 or '74 in Villefranche-de-Rouergue, France. I believe that this was Chiba Sensei's first visit to France although he had been living in England since 1966.
When I saw Chiba Sensei practice for the first time, I said 'Oh my god.' It was raw. There was violence but I never saw it as violence, I saw it as something raw, mainly, He hadn't polished anything yet. I was totally subdued by that.  After this Summer Camp I tried to attend as many seminars and classes that he conducted as far as I could.
He returned to Japan from England in 1976; I met him September of 1977, in San Sebastian (Spain), where he was conducting a seminar with [Nobuyoshi] Tamura.
Chiba Sensei was 36. He had so much fire. He would go to class to practice, not to play around. I practiced with him as a partner at that seminar in San Sebastian. I remember doing nikkyo with him, suwariwaza for maybe 30 minutes. I couldn't eat for a whole week; I couldn't use my hands anymore. Just like two pieces of wood. He'd take you all around the mat, drag you.
I told Tamura I wanted to spend a couple of years in Japan. Tamura said I had better talk to Chiba and he would introduce me at Hombu. We had a special lunch in San Sebastian. Chiba said, 'No, there are already so many French people who give me trouble every day, I don't want another one.' I said, 'Well, I'm sorry, I already brought my ticket!'
How did you start Aikido?
I was living south of Paris, in a city called Tours where I landed a job in 1971. I had just moved to the city and did not know anyone there. I went to see a movie but unfortunately that day was the movie theaters' day off. So, here I am, in front of a closed movie theater and I noticed that there was another guy who, like me, did not know that movie theaters had holidays. We joked about it and sat in the next café for a drink. In that place, there was a small TV hanging on the wall and showing, you won't believe it, an episode of a documentary about Japanese martial arts dedicated to Aikido. I had never heard of Aikido and I was not interested in Japan or the Far East for that matter. But it struck me and the next day I called the city hall to find out if the small city of Tours had an Aikido dojo. And it did and the clerk knew about it. I immediately started to train.
My first teacher soon took me to Tamura Sensei. I really liked Tamura Sensei's Aikido, he was extremely dynamic. Tamura Sensei didn't have a dojo in Paris, he never did. He was working for the French Aikido federation, going one place to another every weekend. I got my shodan in 1976. Around that time, Chiba urged Tamura to invite Mitsuzuka Sensei to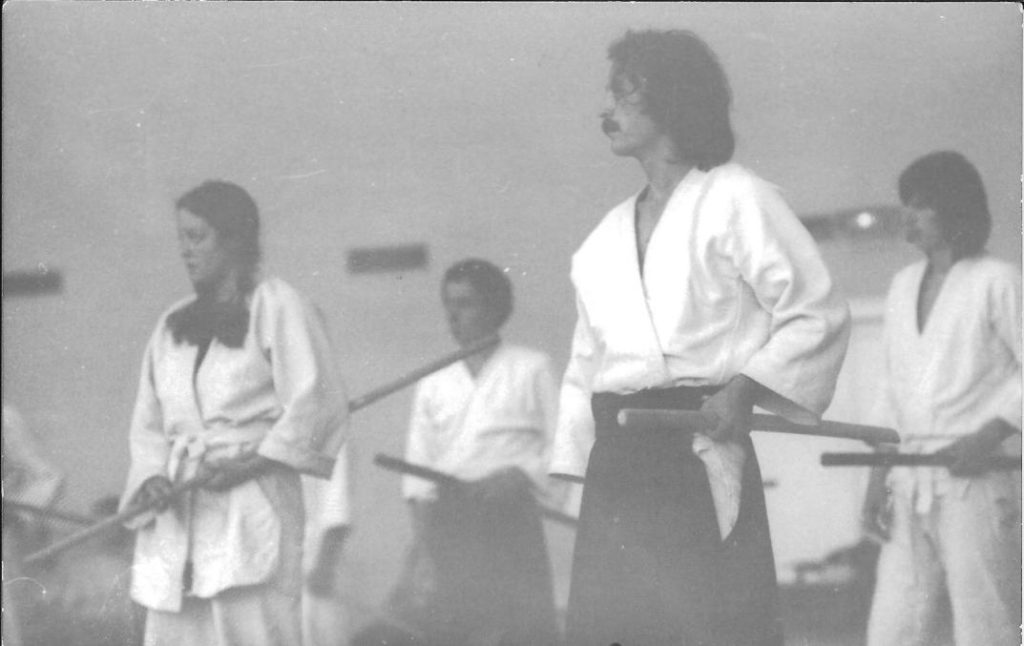 France to teach Iaido. Tamura Sensei would always do a couple hours of Iaido at seminars, and I knew shoden [basic forms]. I got to drive Mitsuzuka Sensei around in the summer of 1977, all over Europe. Mitsuzuka Sensei was very Japanese, he behaved abroad like he did in Japan –Tamura and Chiba behaved differently. Mitsuzuka Sensei would come to a seminar, people would practice for a couple of weeks, and he'd give them third dan or fourth dan! The other Japanese teachers would go bananas. 'These guys are going to go open a dojo!' In Japan, fourth dan is nothing.
Did many Europeans appreciate Chiba Sensei?
Some people, not a lot. It was completely new.
Tell me about the private classes with Chiba Sensei at Hombu Dojo.
Chiba Sensei was back in Japan after 10 years in England, and he had already a clear view of what he wanted to do. To do it, he needed people to work on. The private classes had started a few months before I arrived. They were on Tuesday and Thursday at 1 pm. We used the small tatami room on the fourth floor; the door was closed for total privacy. We started at 1 clock, but most of the time it went on for at least two or three hours. The foreigners were Paul Sylvain, Lorraine DiAnne, Meik Skoss, Dee Chen, Bruce Bookman, Jay Dunkelman and two Scottish guys. Shibata Sensei would usually join in. Sometimes the door would crack open and a head would come out and say 'Dame, dame dame!' [Wrong, wrong, wrong!] that was Yamaguchi Sensei. He's in his suit, he was teaching in the morning, suit and necktie. He would take over and show us what to do. Chiba Sensei loved it.
Chiba Sensei was enthusiastic in the private classes. He was not the same as he was in Europe. He was very approachable, he liked jokes. He loved these private classes.
It was rough because everybody was scared, even though in four years there were no accidents, no serious injuries in the private lessons. It was really tense. There was tension on each side. We were so eager to learn and he was so eager to teach.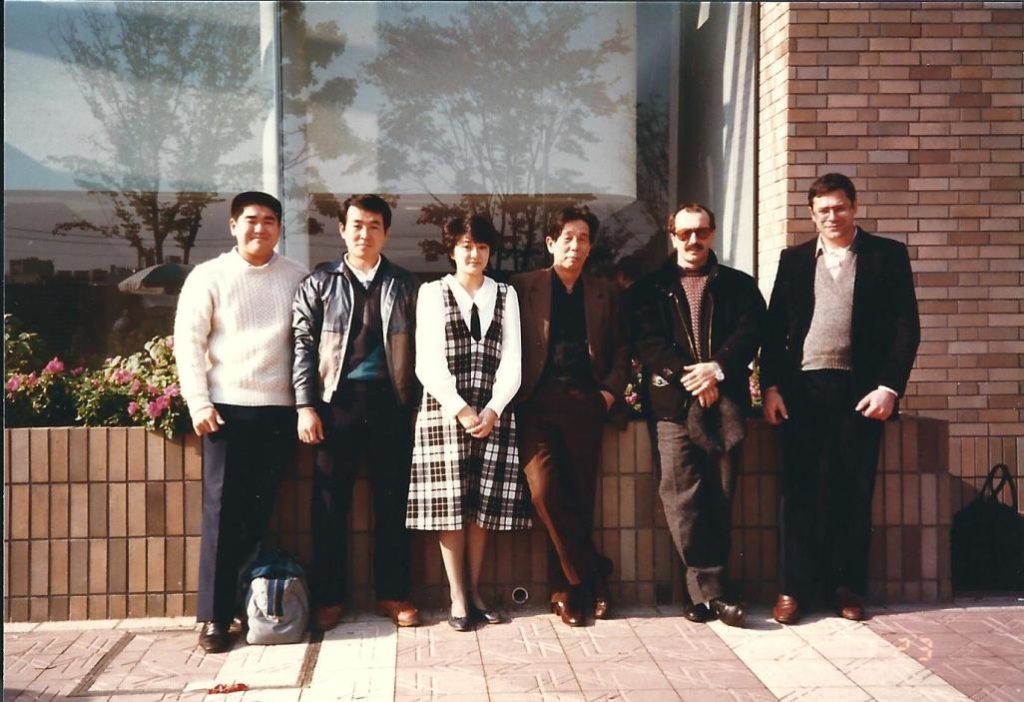 What kinds of things was Sensei focusing on in those classes?
He would bring in Budo, a thick book written by O-Sensei before the war. We went through the whole book, one page or a couple of pages a day. He would put the book on the kamiza; he'd turn to it and look at it again. It was really like a laboratory. For us it was a great way to learn things. Then bokken, weapons work. Lots of it.
When did you start training in Iaido with Takeshi Mitsuzuka Sensei?
As soon as I arrived in Japan. I went through Chiba Sensei, he said OK, come to the dojo. We went to the Iaido dojo in Yotsuya Sanchome, the old one. Chiba Sensei officially asked Mitsuzuka if I could join, he introduced me and asked him if he would agree to take me on as a student. Everything was under Chiba Sensei's tutelage. Chiba Sensei always practiced Iaido. At one point Chiba Sensei told us he got hurt during a trip with O-Sensei and O-Sensei left him in an Iaido dojo somewhere in the south of Honshu. He had to practice Iaido to get his back better. He also collected swords; he had many in Japan.
I went three times a week to Yotsuya police station to train in Iaido with Mitsuzuka Sensei. You could do it at Hombu but it had to be secret, you had to hide yourself. Chiba Sensei was practicing Iaido on his own at Hombu – he couldn't come to Mitsuzuka Sensei's except on the weekends because he was so busy. He cut himself once so bad, all by himself upstairs. We were changing in the locker room, he came down he had his hakama around his arm, blood was dripping from the hakama. He said, 'Go clean!' He disappeared, went to the clinic for stitches. He had cut a vein, it was pissing blood. We go up there and there is blood all over the stairs going to the fourth floor. We open the door and go, 'Oh shit.' The white mat was covered with blood. We spent about two hours with cold water and rags until it disappeared.
We knew that if [Kisabura] Osawa Sensei, the dojo-cho, saw the mess he was going to be so pissed. He was very against doing any weapons in the dojo: When doing bokken, we had to close the windows so nobody could hear the noise of the weapons.
What was it like to practice with Kisaburo Osawa Sensei?
Osawa Sensei had a class on Friday at 5:30, and he gave that class to Chiba Sensei. I would go to his Wednesday morning class and he used me for ukemi every time, but he never addressed me. In his class, Osawa Sensei did everything slow, he would show things very, very slowly. He would slow down like slow motion. It was very beautiful. There were mostly Japanese in class; he never talked to foreigners and I don't think he liked them. He was an old-style Japanese nationalist. Right after the war, he had a bar in Shinjuku. When the dojo started to grow again in the 1950s, Doshu went to pick him up.
Why were foreigners so drawn to Chiba Sensei at Hombu?
We understood what he was doing. We were just there to train. We were not supported by our own federations but we asked for it. We had no money – nobody wanted any money, we didn't care about it. All that we wanted was to train, train, train, train.
We often went out with Chiba Sensei. He talked a lot; he liked to practice his English. He liked his group. He told us stories of his time with O-Sensei. When O-Sensei would come down from Iwama, he would arrive at Hombu and he never said anything. He would show up at Hombu and pick up somebody to go with him as kaban-mochi (bag-carrier). I remember Chiba Sensei saying that he knew O-Sensei was coming when he saw [Yoshimitsu] Yamada running and closing himself up in a closet so O-Sensei would not see him and take him on a trip!
Being a kaban-mochi was very hard. After O-Sensei arrived, he would say, 'You!' and he would leave. You have to pack your stuff and then grab his stuff and run after him and he's gone to the station and he doesn't have tickets! They would take the cable car from Nuke Benten [transit stop near Hombu Dojo] to Shinjuku Station. Chiba Sensei used to say you had to go into the train cars and find a place next to or in front of a beautiful girl. O-Sensei loved to talk to beautiful girls, and you had to go from one car to the other and find somebody alone. Otherwise you'd have to persuade who was sitting next to her to move aside.
As kaban-mochi, you never talked to O-Sensei because he's up there. [Gestures above his head.] You don't talk up.
End of part 1