By Elizabeth Goward, Eugene Aikikai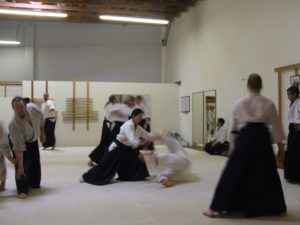 There is utter ferocity in stillness. As the bell rang, the air seemed to cease all movement and quiet descended upon the dojo. When Seminars take place, there is an elevated level of sincerity, a tone of digging deeper within ones self to be present, aware and prepared to be pushed into new challenges and perspectives. Seminars offer us the reminder that in practice, we are engaging in something much deeper and much more threatening than technique, we are engaging ourselves. As Sandoval Sensei began the first Iaido class on Friday evening, this understanding was nourished. "You must be like an eagle, diving for a fish." Silent. Graceful. Wholehearted. Deadly. As this comparison sprang out like the enlivened tip of Sandoval Sensei's blade, "Eye of the Tiger" began to sound through the walls from the recording studio next door, and our seminar was underway.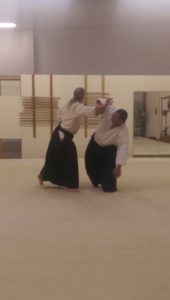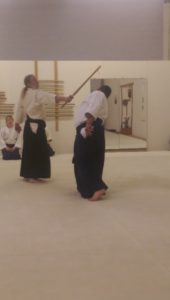 As we approached training on Saturday, the mat was full of life and hunger. Friends, old and new, had arrived from up and down the west coast from Washington to California to train. The first class, taught by Isaih Fernandez Sensei, got our blood pumping and our bodies moving and responding to one another and presented an opportunity to establish trust in our fellow Aikidoka, and ourselves. As we moved forward through the afternoon we were challenged by Sandoval Sensei to become more open, lively and connected. This challenge may seem, through paper, a run of the mill endeavor, but this was not your average seminar in any way. Through word and action, we were reminded that connection moves beyond our physical interactions with our training partner, it begins the moment our hearts and minds engage and is ever-present in each moment on or off the mat. Our connectedness can often be shallow, and we incorporate mistruths into our practice in forgetting the serious nature of ourselves and the spirit of our budō; in a way, we often cheat ourselves, missing opportunities to truly be present daily, often unaware. This call to true connection was commanded fully through the utter sincerity and humbleness of our guest teacher and struck into the heart of budō; we had found something new and precious to hold onto.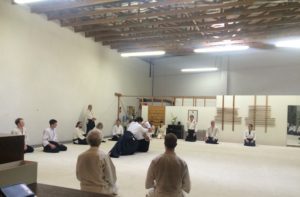 There is no greater offering than sincerity. Sunday morning began with Thoms Sensei teaching a class with Sandoval Sensei as Uke. Thoms Sensei, a student of Kanai and Chiba Sensei's, has ferocity within his aikido that commands Uke to engage without hesitation, Eye of the Tiger. Watching these two men together, we were not being shown technique, but something much greater, and much more rare. This was, in reality, Sandoval Sensei's first class of the day. As he absorbed and responded to each unforgiving movement, we were being offered insight as to what would be expected of us ahead, we were being shown the heart of Chiba Sensei's teachings, as interpreted through his student, we were bearing witness to true martial connection. Sunday's classes addressed basic techniques on the deepest of levels. We were called to cultivate the under-acknowledged depths of our center, to find ourselves and to fully inhabit the space which our bodies occupy. It is a curious thing, the quest for understanding, and we were left shaken. Shaken in the way you feel glimpsing a trout's back curling beneath the waters edge, or standing beneath a 1,000 year old tree, or holding a newborn child, shaken in spirit. "It is truly a beautiful thing." There is no term to describe the gift we receive when fully present and able to perceive what is being offered to us, but I am sure each practitioner of Aikido, new or old, understands that moment. Sandoval Sensei extended this offering through the entire Seminar through wholehearted connection, evoking our humbled spirits within, and delivered to us the grace of an eagle, eye of the tiger, and heart of budō.