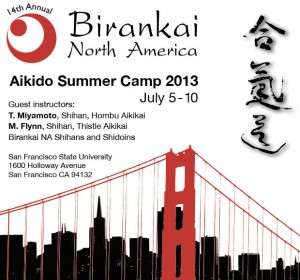 From the Aikido Institute of San Francisco: We are pleased to announce that online registration for Birankai North America Summer Camp 2013 is now open. For more information and online registration, please click this link: Birankai North America Summer Camp 2013
The Fourteenth Annual Birankai North America Summer Camp will be held from July 5th to July 10th, 2013 at San Francisco State University in San Francisco, California.
Please note that online payments will be processed through PayPal (credit cards and debit cards are accepted). To secure a place at camp, all registrants (except International registrants) are requested to include a 50 percent deposit upon submission of their registration. Those who choose to send payments by check or money order, rather than PayPal, should ensure that their deposit is received within two weeks of registering. All checks or money orders should be made payable to Birankai North America.
See you at Camp!