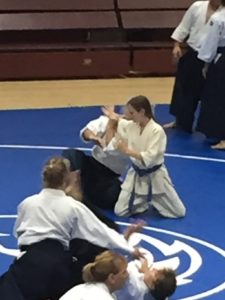 By Norine Longmire, Aikido Takayama
Does your dojo have a children's or youth class? What keeps your kids coming back? What kind of successes or challenges are you having within your classes?
These are some of the questions and concerns that the leadership of the BNA Youth Program Team is endeavoring to help all BNA dojos with. We all know that the youth are our future. Starting a youth program (we say YOUTH across the board from the youngest to 20 years) and keeping it going and growing is a unique challenge for all dojos. Over the last three years we have been creating opportunities for our Birankai community to become more involved and cohesive in the integration of successful youth programs for every dojo.
Have you joined the BNA Youth Program Facebook Page? This is a closed group that supports chief instructors and teachers of youth programs. Longtime youth program teachers like Kate Savoca of Brooklyn Aikikai, Cecilia Ramos of Grass Valley Aikikai, and others, share videos that explore games, ukemi teaching techniques, or even practices from other martial arts (like Judo) that apply to our training. They offer inspiration and opportunity to keep your program fresh. Questions are posted on how to deal with problems specific to teaching or that arise within classes. Ask to join the group: a great way to stay "open" and "connected."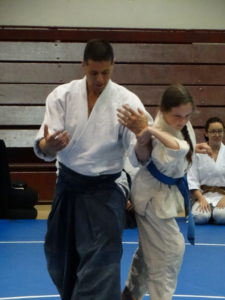 With Summer Camp 2018 upon us the team is again highlighting our young members. On the mats, we will again have a "safe zone" for our more tentative students. Adult members are encouraged to train and support their integration into class – be part of that. You don't have to be a youth teacher to help out!
Our BNA Youth Program meeting is Saturday, July 21, over lunch. We will be addressing our successes and challenges: offering support for teachers, programming, suggestions, and more – join us!
Monday, July 23 3:45 pm is free practice. Here is an opportunity for meeting with youth and teachers, sharing ideas and lots of physical movement. Off the mats we offer emotional first aid and role modelling for our kids. Ask how you can become part of that and help out.
Cohesiveness, continuity, and communication are key to the continued growth of our dojos and especially our youth. They are the future of every dojo. Let's all continue to get together, stay together, and work together to create a strong community of youth that we are proud to say are the future of Chiba Sensei's vision of Aikido.