By Bob Burns, Aiki Farms Aikikai
I grew up in a rural town, attended a one room school house with a large family of boys. We used to stage fights during noon recess in the old ball field across the road, over the stone wall. Often times I would come home with a fat lip, or a black eye, and my father, a college boxer, would take me behind the barn for a "lesson" in fighting. In high school we would fight behind the bleachers, where we all smoked. Some rolled our own; most smoked Lucky Strikes. On weekends we farm kids would attend the auto races at the Waterford Speed Bowl. We would fight with boys visiting our Connecticut beaches from New York City.The poorly lit parking lot was an excellent place for youngsters to share their home grown martial skills on Saturday nights in the warm summer air.
In the Marine Corps my skills were often called upon with an envelope filled with 10 dollar bills, and the name of a bad tempered sergeant, or the name of a CID (spies sent into our outfit from DISCO, the FBI of the Military). In fighting there is no winning nor losing, it is the excitement of the encounter that is the draw. The good thing about the Marine Corps was when I was on the short end of the stick, the base hospital was always there for recovery.
At age 41 my daughter was assaulted by a young man because of her caustic analysis of organized religion. He did not approve of her views and pummeled the young upstart, leaving her on the ground. Afterward, she and I knocked on his door. Ironically this is the first time in my life I had "no mind". There was no anger, no rage, only a total feeling that this issue was to be confronted, and resolved. However, the assailant failed to answer the door. Later, the police arrested him, and jailed him, and being the day before Christmas, he was allowed the solitude of a cold jail cell to have lucid dialogue with his inner spirit.
I shared the story of my daughter's encounter with my apprentice at work, a young Japanese fellow who had his own Karate dojo. He and I often fooled around with fighting techniques in the back room of the tool shed. I said, "My daughter and I need to train with you."
"Oh no", he said. He smiled, "You are a Marine, a fighter. You need Aikido."
"What is that?" I asked.
"It is the art that is just right for you and your daughter. You already know how to fight. Now you have to learn how not to fight."
"How can I defend myself if I don't fight?" I asked
"Learn to be present" he replied.
"How do I do that?" I queried.
"Aikido" He replied.
My daughter and I began training with Sensei Gene Anderson at the Japanese Cultural Center in October, 1980. My daughter, being a teen, soon lost interest. Although she dropped out, I developed a lust for Aikido.
I used to go on Sundays to train with Francis Takahashi doing randori. Dennis and Pat Belt were there (they look the same today as I remember them then), and Dennis had just recieved his Shodan.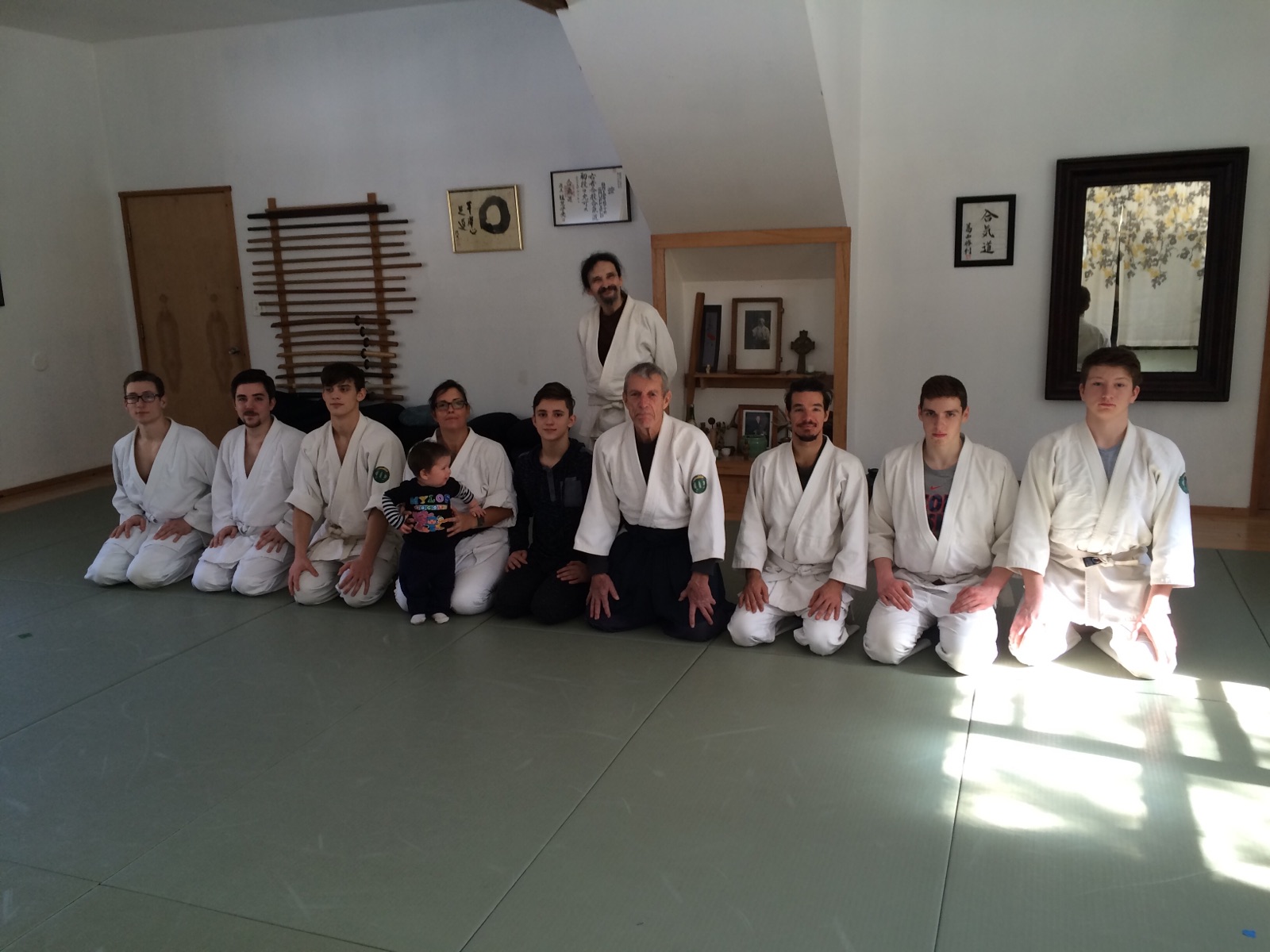 I went to my first seminar, not yet a 5th kyu. Recently divorced I went to see if there might be some pretty women at the dance scheduled for the evening. Fact was I was so beat and tired I went to bed at 6:00PM for a nap…and did not awaken until dawn. The next day however, I met this fellow wearing a hakama, with curly greying hair, who was also a former Marine. He and I spent almost two hours talking. Later, when I took his class, I learned he was the infamous Terry Dobson, one of the first Marines and US citizens to train with O'Sensei. I never forgot the kindness and the compassion he shared with me that day. I never saw him again, but he left my heart, soul, and tired body a message I still carry with me.
I shall zoom ahead now about 37 years. I graduated from Chiba Sensei's kenshusei program, and became the chief instructor at the USMCRD Depot in San Diego. I earned a 5th dan, and was certified as a shidoin instructor. I am now a farmer with a dojo in Ledyard, Connecticut. I am assisted by two strong healthy sons, aged 13 & 17. The boys take all the classes we offer. They sit zazen. Sometimes they train begrudgingly, of course, since Pop is the teacher, yet I hope I am showing them the way of learning how to not fight.