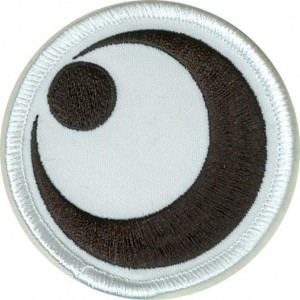 We've got these great new Birankai patches for everyone to affix to their gis. The design is the moon-star mon (crest), the emblem of the Chiba samurai clan.
"We honor our founder, T.K. Chiba, by using his family crest or mon as the Birankai symbol. It should be worn or displayed with great respect," said A.G. Peterson, president of Birankai North America
The new Birankai embroidered patch will be available for sale at Summer Camp. Proceeds from patch sales will go to the Birankai General Fund, which supports various programs including scholarships, the website and the video library.
Wear the Birankai patch on the right sleeve of your gi or sewn onto weapons bags and gi bags. The image should be oriented with the small circle in the "10 o'clock" position.
When applying to your gi sleeve, apply to the right sleeve, a bit below your shoulder but well above the elbow. Put on your gi jacket and have a friend pin the patch to your gi in the correct position. Remove the jacket and iron-on or sew on. We recommend sewing on, however you may wish to do both for strongest adhesion.
Iron-on instructions:
Pre-heat iron for 5 minutes on high setting. Do not use steam.
Iron area of the garment where the emblem will be placed for 25 seconds.
Place emblem in desired location.
Place lightweight press cloth over the emblem. Using a back-and-forth motion, press firmly with iron for 25 seconds. DO NOT apply hot iron directly to the emblem embroidery.
Turn the garment inside out. Using a back-and-forth motion, iron the back side of the emblem for 45-60 seconds while pressing firmly.
Turn the garment right side out. Place press cloth over the emblem. Iron edges of the emblem to ensure they are properly sealed. DO NOT apply hot iron directly to the emblem embroidery.
Enjoy your new patch!
Suzane Van Amburgh