Dear Birankai Colleagues,
At our 2015 Summer Camp, many of you had an opportunity to meet my friend, Amnon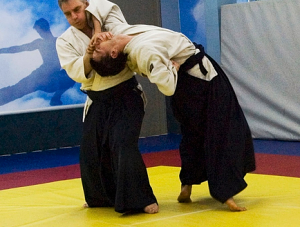 Tzechovoy Sensei, Shidoin, of Birankai Israel (Tel Aviv), and to purchase his remarkable new book, Seeking the Unicorn: Philosophical and Psychoanalytical Insights into the Practice and Teaching of Aikido.
The book was completed before Chiba Sensei's death, but there was no opportunity to present the "finished product" to Sensei, the true subject of the book.  It was my honor to present the book as a gift to Mrs. Chiba at a memorial event.
Later in 2015, Tzechovoy Sensei added a new, final chapter: "Ki No More" — a moving farewell to our founder which, I feel, penetrates to the heart of Sensei's teachings. After some discussion, we decided to share it with you here on BiranOnline. (Please click on title below for Word document.) The chapter will be included in future editions of the book.
Palm-to-Palm,
Aki Fleshler, Multnomah Aikikai
Portland, Oregon